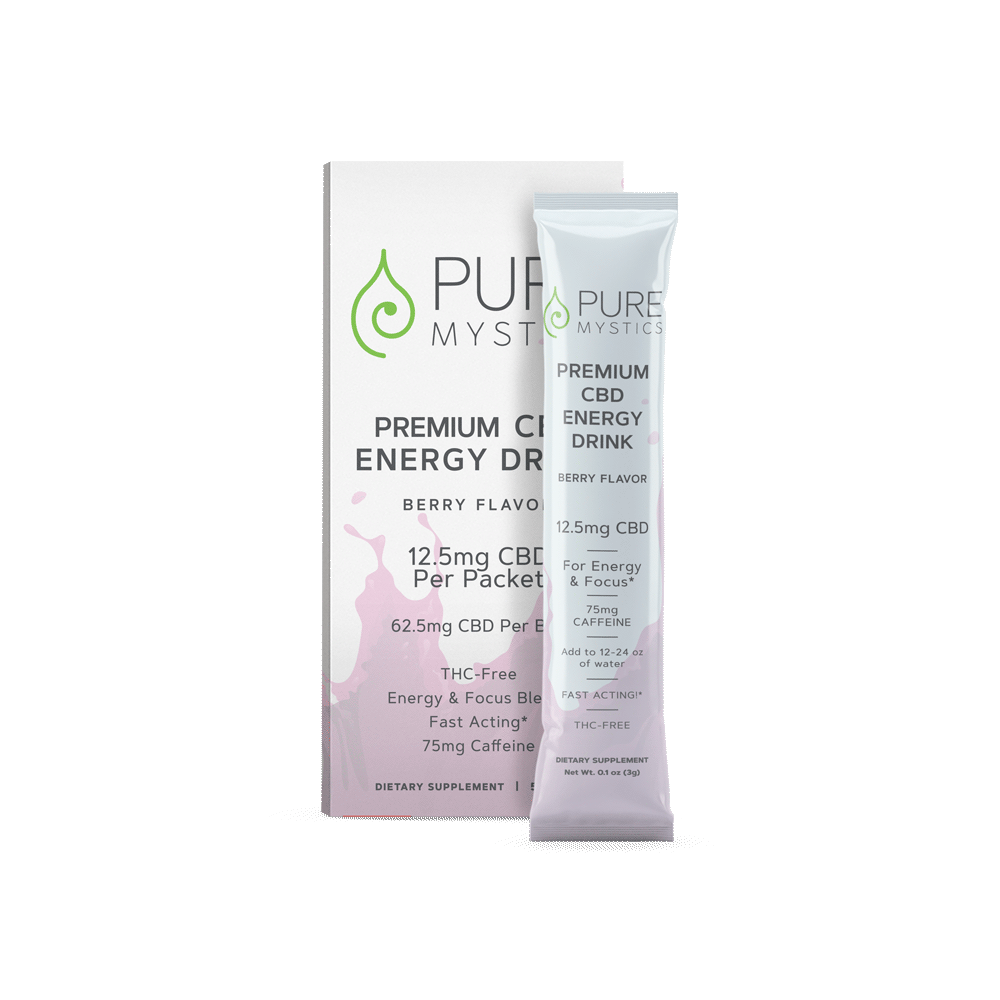 CBD Energy Drink
You'd be amazed what combining Caffeine and CBD will do for your focus and energy! Great for a workout or anytime!
Our CBD Energy Drink is a THC-Free, CBD supplement with 75 mg of Caffeine and 12.5 mg of broad spectrum CBD per packet.
Packed with other essential vitamins and minerals.
Great morning alternative to coffee, for a pre-workout boost or an afternoon pick-me-up.
5 Packets per Box
Ingredients:
Vitamins: Vitamin A (as Beta Carotene) 1000IU 20%DV, Vitamin C (as Ascorbic Acid) 20mg 33%DV, Vitamin D (as Cholecalciferol) 150 IU 38%DV, Vitamin E (as D-Alpha Tocopheryl Acetate) 10IU 33%DV, Vitamin K (as Phytonadione) 12.5mcg 16%DV, Thiamine (as Thiamine HCL) 0.75mg 50%DV, Vitamin B2 (as Riboflavin)1mg 59%DV, Niacin (as Niacinamide) 25mg 125%DV, Vitamin B6 (as Pyridoxine HCL) 1.5mg 75%DV, Vitamin B12 (as Methylcobalamin) 25mcg 417%DV, Pantothenic Acid (as Calcium-D-Pantothenate) 12.5mg 125%DV, Phosphorus (as Amino Acid Chelate) 25mg 2.5%DV, Chromium (as Amino Acid Chelate) 150mcg 125%DV, Potassium (as Potassium Chloride) 45mg 1.5%DV Proprietary Blend: (Green Grown Vegan Glucosamine, N-Acetyl-L-Glutamine, L-Arginine-L-Pyroglutamate, Tyrosine, Taurine, L-Theanine, Bromelain, Aloe Vera Leaf Powder, Acetyl-L-Carnitine, Beta Alanine, Asian Ginseng Root Powder, Maca Root Powder, Caffeine Anhydrous, Broad Spectrum Water-Soluble Hemp Extract Powder ((Dextrin from Corn, Acacia Gum, Sunflower Lecithin, Vitamin E)) Glycine, Yohimbe Bark Extract) 1428mg, BCAA Blend: (Leucine, Isoleucine, Valine) 75mg. Other Ingredients: Citric Acid, Malic Acid, Red Beet Root Powder, Natural and Artificial Fruit Punch Flavor, Sucralose, Acesulfame Potassium and Stevia.
Customer Reviews
05/16/2022
Lisa E.

United States
I recommend this product
Great for Work
I love the focus gained from this product. I have a stressful job and being able to drink this during the day helps me tremendously. Please keep this product available.
08/18/2021
Hannah P.

United States
Delicious flavor and vitamin-packed!
This energy drink mix is now my favorite way to boost my energy in the mornings! I love the addition of BCAAs and vitamins for naturally uplifting energy, while the nano-cbd is Fast Acting and truly helps to calm me down! These do have a little more caffeine than I normally intake, so sometimes I like to use just half a packet.
08/18/2021
Thomas

United States
I recommend this product
Relaxing with a zing
Love the sports drink. I like how the CBD reacts with my body before and after my workout but I love the caffeine added pep I get when I drink it before. Highly recommend.